Where's Joolzery in September? | Handmade Sterling Silver Gemstone Freshwater Pearl Jewellery
Where's Joolzery in September?
I'm Back!!!!!

You may have noticed that I did not post a Where's Joolzery for August.

Just encase you're wondering that I was being a bit slack and couldn't be bothered to post in in August, you will be glad to know that this was not the case.

The reason for not posting was simply that I decided to take a month off from Handmade Arts & Crafts markets in August after a full on July.

After visiting the Beads Up North event, I came away with a fabulous stash of new semi-precious gemstones, including Amber, Turquoise and exquisite Black Freshwater Pearls, and so I spent the last month creating some new pieces in preparation for the handmade markets in the lead up to that big event in December.


So where is Joolzery in September?

So easy does it this month.....

I will be back at the iconic Adelphi Hotel, with the Artisan Collective's Handmade Arts & Crafts Market, on Saturday the 24th September 2016 11am to 4pm.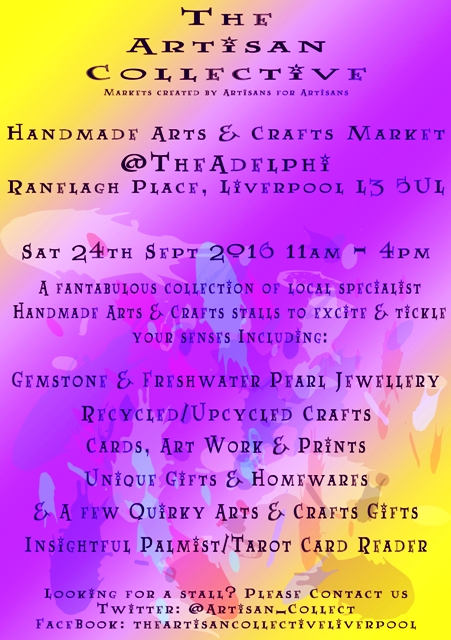 This is a great little handmade arts & crafts market which actively promotes local handmade artists and crafters from the Merseyside area, especially those that are new to the handmade movement, and is
free to enter!!!!
As well as arts & crafts they have a resident Tarot Card Reader/Psychic, and an Alternative Therapy Practitioner providing mini back massages, a great way to release those shopping stresses!
If you happen to be around any of the venues on the dates that these markets and fairs are on, why not visit and say Hello.
These markets are great events to pick up something truly made with passion, and are a fabulous opportunity to fine those perfect original gifts and listen to the inspiration behind the designs.
Joolz xxx
1 Comments
September 01, 2016
1 Comments
September 22, 2016

Looking forward to seeing all your new pieces on Saturday! 😊

Julia
Copyright © 2020 Joolzery. All Rights Reserved.