Where's Joolzery in May? | Handmade Sterling Silver Gemstone Freshwater Pearl Jewellery
Where's Joolzery in May?
Lessons learnt

Last month was definitely a learning one with regards to handmade arts & crafts market.

I decided to give it a try in a new geographic area, by taking part at an event in Tatton Park over the Easter weekend, and lesson I learnt was to avoid any shows that is billed as Crafts and Gifts, as it was full of stalls of brought in items, rather than being handmade by the stall holder.

It seemed to lack that creative energy and buzz that you get when attending a handmade event.

But at least I had a chance to hang out with a load of creatives at the 100% handmade arts & crafts market on Saturday the 29th April, and it was great to catch up with one of my regular customers, who paid us a visit, looking for something special.

As to May, I will be back at the iconic The Adelphi hotel on Saturday the 27th May 2017.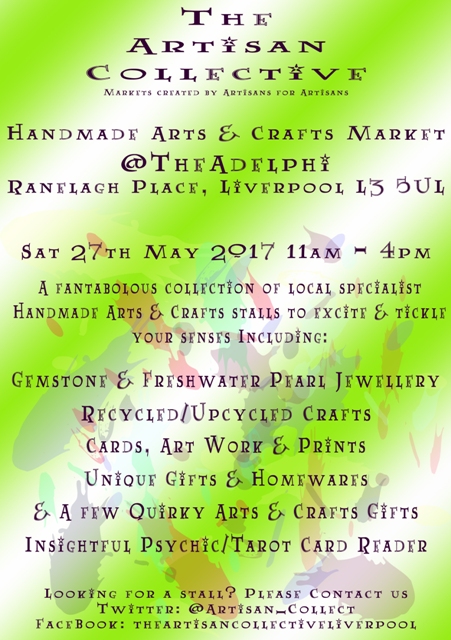 I really like taking part in this little handmade arts & crafts market as it features and promotes local handmade artists and crafters from the Merseyside area, especially those that are new to the handmade movement in Liverpool.
If you are in Liverpool City Centre on Saturday the 27th May 2017, then why not pop in and say Hi.
These markets are great events to pick up something truly unique, and are a fabulous opportunity to find those perfect original gifts.
Joolz xxx
1 Comments
May 01, 2017
1 Comments
May 23, 2017

Unfortunately this market has been cancelled, but I will be returning to the Adelphi Hotel on Saturday 29th July 2017, with the Artisan Collective July Handmade Arts & Crafts Market 11-4

Joolz
Copyright © 2020 Joolzery. All Rights Reserved.