A Lesson in Wire Crotcheting | Handmade Spiritual & Healing Crystal Jewellery | Joolzery
A Lesson in Wire Crotcheting
Since starting Joolzery, in July 2013, I have been looking for new ways of creating jewellery, so today I completed a wire crotchet course.

Always ready to try and create new jewellery pieces, I decided to enrol myself on a wire crotchet course, using Swarovski crystals and pearls.

Just like anything new, it was scary and uncomfortable, and though just like anything I tackle new, I keep an open mind about it, but when I fail to grasp the first few instructions, my heart slightly sinks, and that element of doubt about my skills and alleged talents start to creep in.

It doesn't help when you look around and all the other delegates on the course seem to be racing ahead and having no problems understanding the tutor.

And I start asking myself what is wrong with me? why can't I get this? How hard can it be?

Granted I have never crotcheted in my life before, I did a bit of knitting years and years ago, so I guess this was completely new and alien to me.

Funnily enough as an IT trainer of many years it was quite interesting being a delegate and watching how the tutor dealt with the individual needs of each learner of the course.

So with my slowly slowly catchy monkey approach, and bearing in mind crocheting is a repeative action I finished my first strand, but by this point I had forgotten how I started, so had to get the tutor to tell me, I think I will have to put that down to my age......

And away I go with my second strand of my little crotchet wire necklace masterpiece, learning that the bigger the loop the easier it is to crotchet the wire, yeah I know you would think that this would be obvious to someone with such a logical and analytical mind as mine, however, as I will be crotcheting with sterling silver wire, large loops equals more wire and and increase in cost, and there lies my quandary.

For now I am just concentrating on keeping up with the others, and getting my little masterpiece completed before the course end at 5.30pm.

By the third strand, I was in the zone, and I had a rhythm, the great thing about this method of jewellery making is that the untidiness and the randomness adds to the beauty of the piece, just like nature itself.

The next part of the design of this necklace is to combine all 3 strands and creates the loops to add the necessary findings.

The fourth part is to decide whether this is a choker or necklace, and in my excited state I forget that I am allergic to any type of plated metal and wrap it around my neck, before having another brainwave that I could make this intro a tiara of sorts, and wrap it around my head.

Well the resultant allergic reaction ensues, I am scratching for England, and I promptly have two rash lines around my neck and face, lovely! :0)

However, the final product is a little more stunning: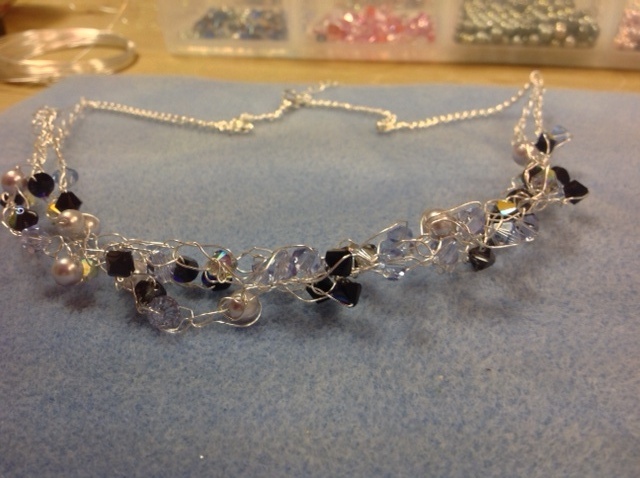 What do you think?

0 Comments
October 19, 2013
Copyright © 2020 Joolzery. All Rights Reserved.