Handmade sterling Silver Wire Abundance Bracelet| Joolzery
Ideal Gift for a Cancer/Leo Friend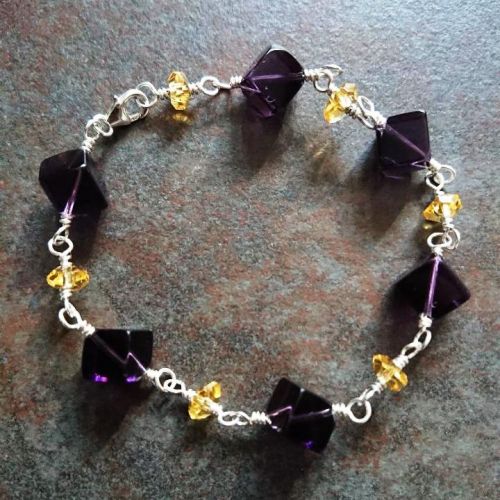 Anyone who knows me knows that I'm not a great fan of shopping......

Like most people when it comes to buying presents, I find it particluarly hard to find that elusive present, especially when it comes to those long term friends.

At least I have access to handmde markets, so it means that I have the opportunity of finding some new and interesting gifts.

And when it comes to jewellery, at least I have most of that covered too!

So it was this in mind that for a friend who I first met at university many moons ago, that I decided that I would gift her with a new piece of jewellery for her birthday.

Last year I made her a facetted dragonvein agate styling silver wire bracelet, which I know she loves and on her "state visits" it adornes her wrists.

Over the years I have made her several pieces, and with this in mind I decided this year with it being a milestone birthday to make a semi-precious gemsone bracelet.

The running joke between us is that as she is born on the cusp, whether she is a Cancer or a Leo, because depending on which horoscope one chooses to read she is either of these.

I wanted to bring some abundance into her life, so my starting point was Citrine, which is a birthstone, and when I see her mass of ginger hair, it reminds me of a Lion.

One of my favourite colour combinations is Purple and Yellow, when it comes to jewellery design, they just seem to enhance each other on the colour spectrum.

And two of my favourite gemstones are Amethyst and Citrine.

So it made perfect sense to me to create this stunning sterling silver wire Abndance bracelet, as a present for a very dear and good friend of mine.




I love how the facet cut of the Citrine rondelles shines when it catches the sunlight activating the abundance energies of the stone, combines with the deep purple of the Amethyst cubes, really makes this bracelet a blingtastic.

My friend loved the bracelet, and says nows she's waering it she won't be taking it off for awhile

What do you think?

Joolz xxx

PS If you are looking for a bespoke piece of jewellery, with your favourite gemstones, why not get in contact

0 Comments
July 24, 2018
Copyright © 2020 Joolzery. All Rights Reserved.