Handmade Burnt Orange Amber Jewellery Collection | Joolzery | Handmade Sterling Silver Gemstone Freshwater Pearl Jewellery
Handmade Sterling Silver Burnt Orange Amber Jewellery Collection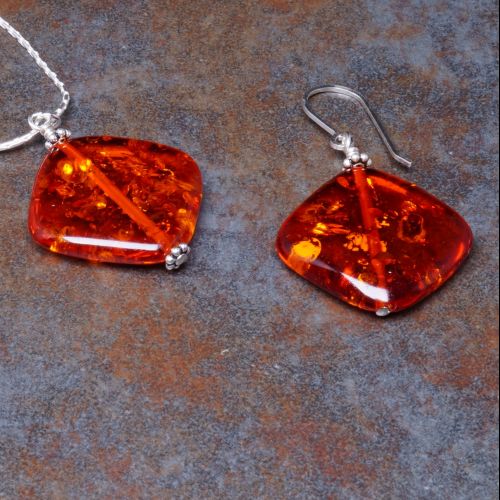 I came across these gorgeous burnt orange amber diamond beads, and thought it would be a good idea to create a new collection of jewellery with them

I've had these burnt orange Amber diamond gemstone beads for awhile and had created some earrings last year, that sold really quickly.

Whilst looking for some other gemstone beads, I came across them, and loved the deep burnt orange colour of the beads so much that I decided to make new collection of earrings and pendants.

I also decided to combine them with citrine and peidot gemstones because of their symbiotic healing energies

Some of these pieces did not make it to the website, because they sold at the handmade markets that I attended in the lead up to Christmas this year.

What do you think of the designs.....


Handmade Sterling Silver
Amber Earrings 10


Handmade Sterling Silver
Amber Pendant 02



Handmade Sterling Silver
Citrine Amber Earrings 01



Handmade Sterling Silver
Amber Peridot Pendant 01


The pieces of this collection that do not sell at the Christmas markets will be uploaded to the website by the 20th December 2018.
If you see a piece you would like to buy in the mean time please
email me
with the name of the piece, and if it is available I will send you the iink to buy it.
Joolz xxx
PS If you would like a piece of jewellery deigned in a gemstone that I have not already created, contact me, and I will make one for you :) xxx
0 Comments
December 03, 2018
Copyright © 2020 Joolzery. All Rights Reserved.