My Messy Weekend | Handmade Spiritual & Healing Crystal Jewellery | Joolzery
My Messy Weekend
Anyone who knows me knows that I live in absolute organised chaos, and I am never happier in doing so

So in the UK the 31st Jan, is a deadline no one wants to forget or deal with, as nobody wants to deal with the consequences of upsetting good old HMRC, or the taxman, which is one of the politer ways of referring to this government organisation.

So with this in mind and my desk looking like the paper equivalent of the Mont Blanc mountain range, of course that key piece of paperwork that stops me completing my interaction with the taxman becomes the most important thing in my life at that point.

I knew where it was and where I thought I careful placed it, the last time I used it, but for some reason, at this point in time I could not find it, for neither love nor money.

So there's nothing for it, this weekend I would have to get my hands messy and deal with my chaotic paper mountain, and bring a little bit of order to my desk.

So my trip starts down memory lane, accompanied by the prerequisite music of the era, a bit of Annie Lennox, Simply Red, Yazz followed by Texas, volume turned up loud, just to annoy the neighbours.

Now I never reaslised how much of a hoarder I was, until I found a P45 from 1990, along with a number of letters and postcards from various university friends from 1993 onwards, but the real gem was finding a much loved white jade, carnelian, amethyst and quartz bracelet, whose wire had frayed so much that I could not wear it.

And just like most people I put it in a little bag with the intention of getting it repaired, but like most things life too over and it languished in that money bag for years........till now.

And as a typical crafter, i can concentrate on anything until I come across a bead, and then everything stops!

Out came the sterling silver wire and ball pins, and I created this little beauty, which is now currently adorning my little wrist: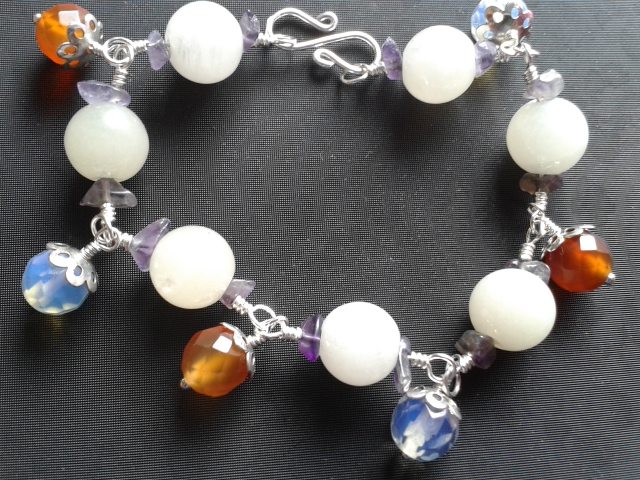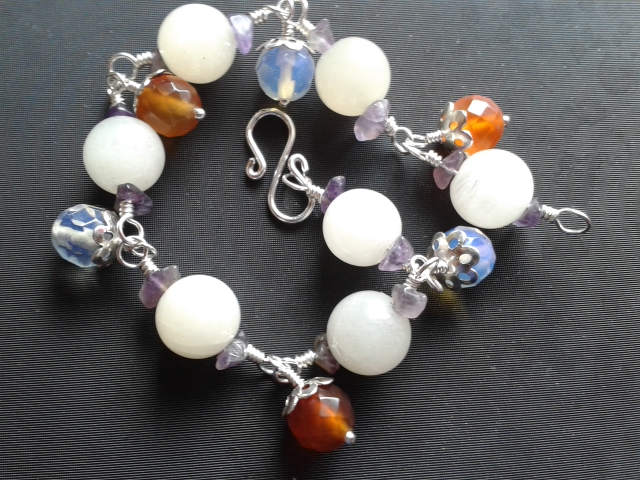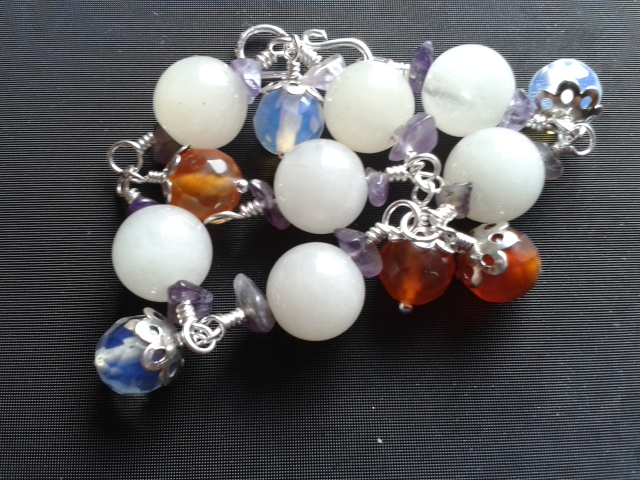 So a beloved piece of jewellery has been redesigned, my desk has a considerable amount less paper on it, which is now shredded and contained within 2 recycling bags.

And that elusive piece of paperwork, was of course in the last place I looked!

Not bad for a messy weekend

Joolz xx


2 Comments
January 27, 2014
2 Comments
February 20, 2014

You sound just like me, I'm always putting things by to mend then finding them years later. Can not bear to throw anything away, lol! x

Deborah
February 20, 2014

Hi Deborah,

Thank you for your comment.

I do throw some stuff away, except jewellery, as they tend to be beads, so they can always be recycled/up cycled to something else.

It's just that life gets in the way of what you plan to do, and previously I didn't have the skills to make something completely new.

Joolz xx

Joolz
Copyright © 2020 Joolzery. All Rights Reserved.