Handmade Amethyst Cluster Collection | Joolzery | Handmade Sterling Silver Gemstone Freshwater Pearl Jewellery
Handmade Amethyst Points Collection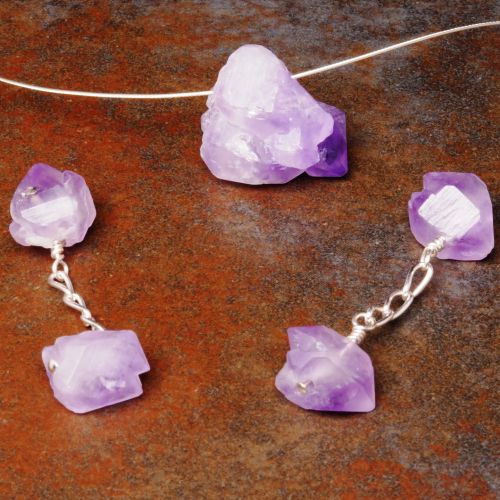 2 years ago brought a string of Amethyst cluster beads and made a set comprising of a necklace, bracelet and earrings, which all sold pretty quickly, unfortunately I was not able to get those beads again.

Last year while researching for some new suppliers, I came across some more Amethyst cluster beads again, so of course I had to quickly snap them up so that I could make a new collection of jewellery.

Amethyst activates spiritual awareness, opens intuition and enhances psychic abilities. It has strong healing and cleansing powers.

I have also paired them with some clear Quartz points, to give their healling properties and energies a power boost, as well as creating some stunning organic pieces.


Handmade Sterling Silver
Floating Amethyst Point Pendant


Handmade Sterling Silver
Amethyst Quartz Point Pendant



Handmade Sterling Silver
Amethyst Point Cufflinks



Handmade Sterling Silver
Amethyst Quartz Point Earrings


What do you think?
Joolz xxx
PS If you would like a piece of jewellery deigned in a gemstone that I have not already created, contact me, and I will make one for you :) xxx
0 Comments
January 08, 2019
Copyright © 2020 Joolzery. All Rights Reserved.