A Day in York | Joolzery | Handmade Sterling Silver Gemstone Freshwater Pearl Jewellery
Day Trip to York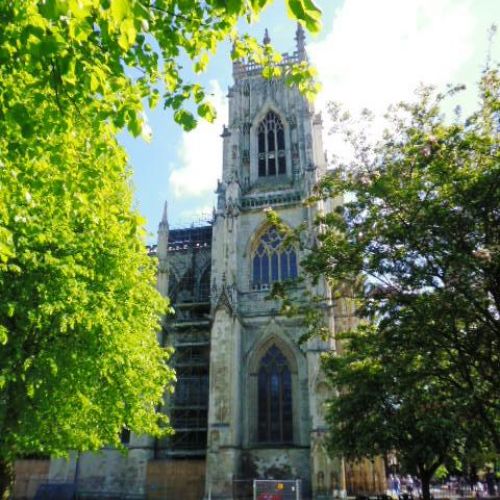 When I was asked if I wanted to go on a day trip to York, I thought why not...


York has always been one of those cities that I have been meaning to visit over the years, especially whenever I need to travel to Newcastle or Hull and the train stops at York station, but I never got round to visiting it until this week.

When the residents association asked if I wanted to go on their coach trip to York for £5, it would really be rude to say no!

And I thought while there I could mix a bit of business with some pleasure, win-win!!!!

So the days before I did some research of what to do in York, and also to checkout the independent boutiques and shops there was in the city, as potential stockists.

The minibus was picking up at the top of the street had seen better days, and as I approached I soon realised I was the youngest there, and it really looked a little bit like God's waiting room, and with a single magpie flying past, I saluted and hoped for the best.

As always all the best people sit at the back, and I had the whole back row to myself, one of the perks of being the youngest on the coach! 10 minutes later the coach trip starts.

We touched lucky with the weather as it was a glorious sunny day, and the usual M62 car park, was moving freely, I'm plugged into my iPod, sat back and soaked up the views that I normally miss when driving, because one I am in an elevated position on the minibus, and two I am usually concentrating so much on the other drivers antics around to notice the scenery.

Checking my watch I'm working on the principal that we will be in York by 11:45, giving me a good 5 hours in the city, until 36 miles from York, we are strangely in the inside lane, and slowing down.

The driver decides that we need a comfort break. This to me is a bit of an alien concept, as when I drive anywhere, I can't remember the last time I stopped at a service station, as I always pack all my munchies on the passenger seat, empty my bladder, and the thought of the service station prices, is enough to keep me going.

Even driving to and from Liverpool and Glasgow earlier this year, with the horrendous driving conditions coming back, it was put the metal to the pedal and get home with no stops.

So we stop at the service station, for 15 minutes, which was never going to be a reality, as it took the best part of 5 minutes for 20 people to get of the mini bus, and another 5 to get to the building of the service station!

Of course there is going to be the obligatory cup of tea and the inevitable visit to the toilets...

45 minutes later we are back on the coach on our way to York, ipod back on play mode, and I am having to revise my plans, of who to see and what to do in York, especially as we the find out that it the Dante Festival when we enter York on A64.

I always thought that York was a big city for some reason, but its actually smaller than Liverpool, which I found surprising, with now only 3.5 hours available in the city, its time to go and see those priorities on my list.
The first thinkg on the list was the Crystal and Fossil stall on the Shambles Market, which took me a bit of a while to get my bearings, and I got lost a few times with the directions.
I thought the stall would be bigger, and hence have more variety of gemstones, but I did pick up a few nice specimens, including some striking Petrified Wood pieces and Kambaba Jaspers which I planned to use in my upcoming silver smithing course:
My next stop was to visit an independent clothes boutique, ONE: Responsibility Gorgeous Boutique, which from their online profile would be a fantastic retail outlet for stocking my handmade jewellery, I loved their ethos and what they stood for, and their clothes would be a compliement for a few of my pieces.
After a couple of wrong turns I found Grape Lane, but could not find the shop, unfortunately this independent boutique had become a victim of the high street malaise, and had closed down in May, and their neighbours had not realised, and was under the impression that they had closed down, rather than moved elsewhere.
Looks like that magpie this morning knew something after all.
After that little disappointment, I decided to head towards the Shambles as there are a few independent shops there that could be a possible place for my jewellery to be stocked.
I really loved this quaint street, I think just because of its character, rather than it's association with the Harry Potter Films
I popped into a few shops, also looking for some gifts for some upcoming birthdays, but I have to say I was not really inspired, and was more impressed by the architecture and space, rather than the contents of the shops.
As time is short, I decide to grab a cheeky Chicken Bake from Greggs, and it's off to check out the York Cocoa House. I guess I've got to that stage in life where I spending more on quality products, and like to treat my friends to artisan foods too. Over the last year I have to say I have gone off chocolate as it does not taste like it used to, and even with my sweet tooth, I find them too sweet with no real flavour profile.
After tasting York Cocoa House White, Milk and Dark chocolate samples, I think I am slowly falling back in love with chocolate again.
And proceed to bash the credit card with chocolate and hot chocolate presents for my friends and chocolate nibs for myself:
One of the locals points me to a potential supplier for my jewellery, and I start heading to this location, but somehow get lost, and with 1.5 hours left, I am thinking sod it I have achieved 2 out of my 3 priorities, and I spot Fabrication, a little pop up handmade/indie co-operation shop by accident, so decide to pay a visit to them instead.
It's a great little shop that is taking over an empty space on a rolling lease, as to refurbish the shop will cost £2 million, as its a grade listed building and amongst other things the roof is in a serious state of disrepair. All the items in there are from local crafters and makers who volunteer in the shop as part of the deal of selling their products in the shop, which includes recycled and upcycled wooden boxes, glass crafts, ceramics and of course the ubiquitious jewellery and cards.
There was an ideal gift for a gin loving friend of mine, but I just didn't love the style and colour of the piece, but I picked up these little beauties: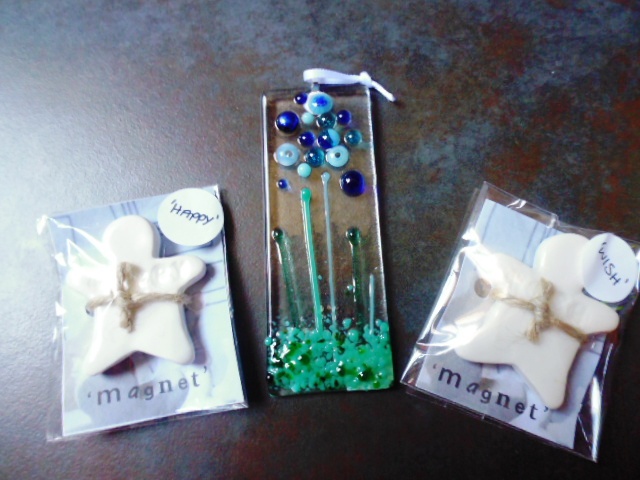 Sometimes serendipity and synchronicities happen, and none so much as what happened next.
With an hour left before having to get back to the coach, I decide to go and check out York Minister, after all can you really visit York and not checkout York Minister?
Clearly I am not going to pay the entrance fee of £11.50 with less than hour to have a good look around, especially as I am interested in the architecture and have a particular weak spot for stained glass windows, and I had not read up on the building, so I would not know what to concentrate on.
So I just walk down this street, as I can see I am heading in the right direction, and in the middle of the road are road works, which meant I had to stay on the right hand side, when I see Pyramid Gallery, which is an independent jewellery and gallery space, that I had been looking for earlier.
As I literally trip into the shop, as the step was higher than expected and with all the walking I think my poor little legs were a little tired, and little bit embarrased I enter the shop, laughing at my clumsiness, and start to have a look around. The gallery manageress smiles at my door antics, and assures me that everyone does that on entering, and taller people normally hit their heads on the door frame to boot, so being short does have it's advantages.
We get talking and I can see work from a few of the other jewellerers from British Craft Trade Fair, have their work on display within the gallery.
I also love the vibe of the gallery, and I can see my jewellery fitting in there, and proceed to show her a few of my favourite pieces, including my sterling silver asymmetric earrings and abundance collection, which she loves and enthusiastic about.
We get talking and look at some of the other jewellery pieces that use gemstones within their styles, and the properties of
Labradorite
which is one of the gemstones she loves.
The only fly in the ointment, is that the gallery works on a sale on return basis, which does not quite fit my business model, as I would rather sale at wholesale prices, as I do not want unsold stock being returned to me 6 months later, but I have a few items, that their customers are asking for, as aparently I am on trend!!!
Watch this space to see what develops....
Feeling really positive, and with 20 minutes before having to get back to the coach, I head to York Minister, and do what I do best take pictures of York Minister.
I have to say, even though Liverpool has two striking Cathedrals, and the Anglican Cathedral is very imposing I think due to its sheer size, York Minister really took my breath away especially when I got up close and personal, with its yellow coloured stone, from Tadcaster, its Gothic architectural facade and detail, it was simply stunning.
Here's a few photos I captured:
Of course as you know I get very easily distracted, and the colours of these flowers caught my eye:
And then its a leisurely walk back to coach, with 5 minutes to spare.
We set off, but hit the York rush hour traffic as we exit the city on the A64, and then the M62, so this time when we stopped at the same service station, on the opposite side, I didn't mind to much, as I rather be in some fresh air, even though it was a bit bracing, rather than doing 3 mph on the notorious M62 carpark.
Interestingly enough we all got back to the coach, 30 minutes later, before the coach driver...
All in all it was a great way to spend a day, and I think I will plan to visit York, and York Minister especilaly in the future, when?
Only God knows....
I will keep you updated with what came about my visit the gallery
Joolz xxx
0 Comments
May 19, 2019
Copyright © 2020 Joolzery. All Rights Reserved.