My Metal Smithing journey | Joolzery | Handmade Sterling Silver Gemstone Freshwater Pearl Jewellery
Metal Smithing here I come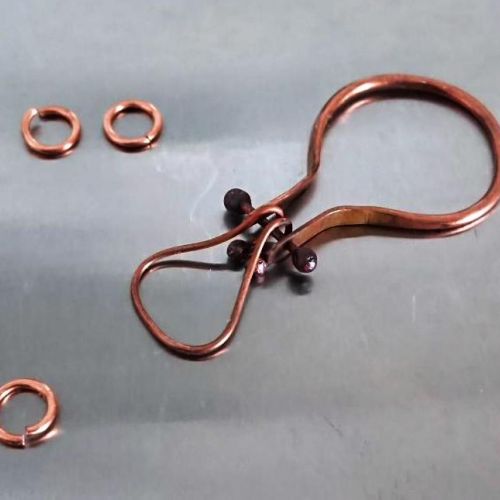 For the last 5 years I wanted to complete a metal smithing course, but other opportunities kept on getting in the way, until now.....

When I started Joolzery, almost 7 years ago, I was happy just to create simple wire wrapped gemstone and/or freshwater pearl pieces as jewellery.

As time moved on, and the business has even led, I realised that my designs where being limited by the use of wire, and started looking at expanding my skill set by using metal smithing techniques.

I first wanted to do this about 4 years ago, but instead took over the running of a handmade Arts and Crafts market, which while enjoyable at the time took up too much time.

However with the culmination of events at the end of 2018, I decided that I needed to concentrate on growing Joolzery, and so gave up running the handmade market, to free up some of my time.

Along with this, I applied for a stand in the Craft section of the 2020 Scotland's Trade Fair, but was told, that my designs are not crafty enough.

So I sat down, and asked myself, as a Handmade jewellery business, why is my jewellery not been seen as craft quality?

It was this final rejection, that was to be the impetus I needed to finally take a serious look at upping my jewellery making/design skills, and I immediately looked at my options.

I knew I did not want to do a 3 year diploma, or have another university qualification, and I knew that I did not want a formal classroom training scenario where you learn how to make a ring, bracelet or a pair of earrings.

I just wanted to learn the foundation techniques and then play and experiment with my making, so I thought the best way to achieve my goals is to checkout what's being created on Pinterest, and have a one-to-one session, with a metal smithing jeweller.

I had my first session, last month, where I learnt about sawing, annealing, pickling, oxidising and forming.

It was definitely a very steep learning curve, but the great thing was that I was able to learn at my pace, and explore different methods of texturing and forming metal.

These are some of the pieces that I created during this session.

Oxidised Copper textured bead cap



Oxidised Copper textured different
hammers



Oxidised Copper folding
technique



Copper rivetted clasp, and jump
rings


Although they do not look much, these will form the basis of my design work moving forward.
And just for laughs we created the largest clasp and connectors from alumimuim wire I have every seen:
Now I am in the process of setting up my little metalsmithing studio in the attic, ordering all the necessary metal smithing tools, equipment and chemicals, and getting a little work bench made.
Watch this space to see how my metal smithing journey progresses
Joolz xxx
0 Comments
June 20, 2019
Copyright © 2020 Joolzery. All Rights Reserved.