Charles Rennie Mackintosh Exhibition | Joolzery | Handmade Sterling Silver Gemstone Freshwater Pearl Jewellery
Charles Rennie Mackintosh Exhibition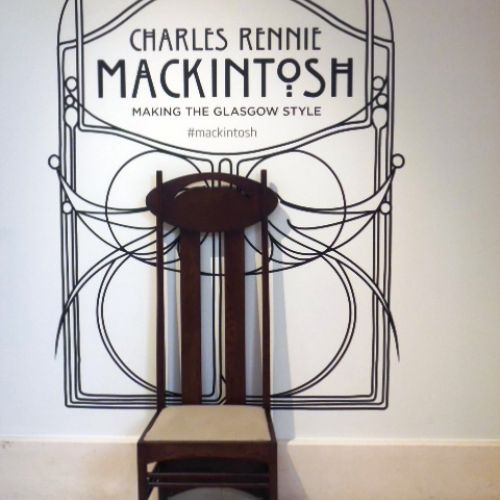 For years I have been meaning to see the Charles Rennie Mackintosh work, but with one thing or another I never got round to it, until now!

Since starting my journey into metal smithing, it has opened up a whole new set of jewellery design possibilities.

My design aesthetic has always been simple, elegant and organic, to let the raw material beauty shine in my designs.

Currently I am drawn to geometric shapes, and have been asking myself,
Is this enough?
Am I playing too safe?
Is this commercially viable for the Joolzery jewellery brand?
With this in mind, when I was browsing through my Instagram Feed, up popped 4 things to do in Liverpool this weekend, of which the Charles Rennie Mackintosh Exhibition at the Walker Gallery caught my eye, especially as this was the last week of the exhibition.
I woke up early on the Sunday morning, and as it was sunny decided to walk into town, hoping to miss the crowds.
Unfortunately for me it seems, a lot of other people had the same idea.
To be quite honest with you I didn't know that much about the work of Mackintosh, apart from the jewellery and the elongated back chairs, so I was excited to find out more:
I was particularly interested in the furniture, as it lends itself to the geometric shapes of my jewellery, with its clean and simple but striking designs:
| | |
| --- | --- |
| | |
| | |
| | |
What I loved about the work and design is the little details, that adds a little something something to the pieces.
When I was watching the video of these architectural work of Rennie, I automatically starting thinking how wonderful this shape would be as either earrings or bead caps:
The use of geometrc shapes in the light fitting designs blew me away
Anything with some gemstones, you know is going to catch my eye, and this clock was no exception:
I love the simplicity and clean lines, with the little details added to the design, makes this clock truly stunning!
Here a few more of my favourite designs that caught my eye:
When I was told that the exhibition was only in 3 rooms, I thought that this would be an exhibition, that I would be in and out of in a matter of an hour.
How wrong was I, there was so much to see, watch and read that I have to say that the three hours it took me to immerse myself in the exhibtion, left me so inspired I went next door to Central Library to checkout some jewellery making books to see if my new designs was possible, and if so how.
I know feel more confident in my metal smithing jewellery designs moving forward, and realise that I can take the geometric designs I love to another level, with just a little attention to detail.
Joolz xxx
0 Comments
September 16, 2019
Copyright © 2020 Joolzery. All Rights Reserved.