Handmade Geometric Sterling Silver Studs | Handmade Spiritual & Healing Crystal Jewellery | Joolzery
Playing around making Handmade Sterling Silver Studs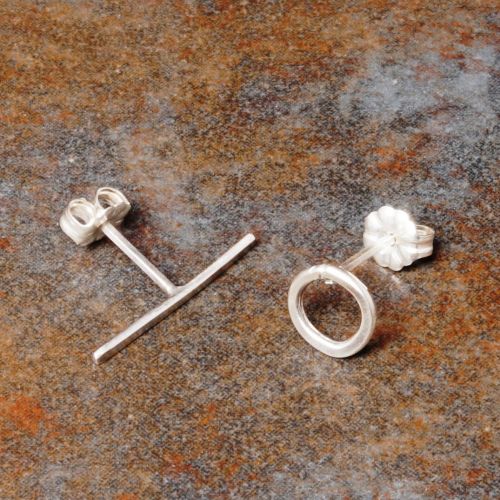 So I started last week making handmade textured copper studs, and then I started messing arnound with some sterling silver wire, which then became handmade sterling silver studs

Its really funny, when you start designing one things, and then your creative mind takes over and you go off on a tangent.

This is exactly what happened last week, when I started making textured copper sterling silver earrings, and then landed up with a collection of geometric shapeed sterling silver studs!

All my studs I am creating will have sterling silver ear posts and backs, and It was will I was decided whether to use round or square sterling silver wire to make the ear posts, and then kind of got distracted into can I make simple geometric sterling silver studs?

Out came the pliers and the solder, and I created these round studs:

It's at this point that I remember my square wubber pliers, and wonder what shape studs I can create with them:
The next sterling silver stud earrings was a complete mistake!
At this point with these square wubber pliers I can only make diamond studs, so I decide to try to create some square studs by wrapping them around the pliers and then sawing the resulting squares, as if I am making jump rings.
Well that was the plan, however this is what I made instead.....
How cool are these?
I am now on a experimenting design session, and all these geometric shapes, are all good and fine, but as you know, I love playing with asymmetric designs, and I come up with two designs:
What do you think?
I decided to test these designs by putting them up for sale in the Chapel Gallery, Ormskirk, so if you are in the area, why don't you pop in and check out my whole sterling silver stud collection.
If you love what I'm doing on my metal smithing journey, keep up to date by reading
my metal smithing blog series
to see what else I come up with next.
Joolz xxx
0 Comments
September 24, 2019
Copyright © 2020 Joolzery. All Rights Reserved.