Handmade Sterling Silver Fluorite Earring Collection | Joolzery
Handmade Sterling Silver Fluorite Octahedron Earrings Collection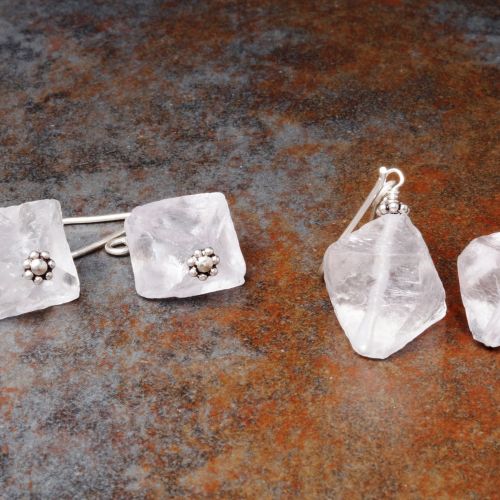 I just love the shape of octahedron fluorite

A couple of years ago I got my little paws on some gorgeous blue and green fluorite octahedron beads, which turned out to be extremely popular with my customers.

Unfortunately they stopped being produced, but when I visited the Rock and Gemstone show in Harrogate last year, my supplier had a few strings of pale purple and green fluorite, so obviously I snapped them up.

These new beads are smaller and slightly more fragile than my previous ones, but I thought they would still make a fabulous collection of asymmetric earrings, for those that want a little bit special.

Fluorite is known as a dream crystal, it protects the mind and is said to free the spirit at night to explore, travel and expand without fear. It allows one to form ideas and concepts, enhances creativity and opens the mind to new possiblities.

Here are my favourites:



Handmade Sterling Silver
Purple Fluorite Earrings 03


Handmade Sterling Silver
Asymmetric Purple Green Fluorite Earrings 01



Handmade Sterling Silver
Purple Fluorite Earrings 04



Handmade Sterling Silver
Purple Fluorite Earrings 01


What do you think?
Joolz xxx
PS If you would like a piece of jewellery deigned in a gemstone that I have not already created, contact me, and I will make one for you :) xxx
0 Comments
January 24, 2020
Copyright © 2020 Joolzery. All Rights Reserved.