Oh No!!!
Oh No!!!
So Soz and I are in Barcelona for a 4 day break in Barcelona, we arrived late yesterday night, had a bite to eat, and this is our first full day in the city.

So Soz and me have 4 days to check out and experience Barcelona at our own speed, and have a bucket list, which interestingly enough mainly consists of eating and drinking! I guess somethings never changes with us.

We are up and out of the hotel looking for some alternative breakfast venues, while we decide how we plan to spend the next few days.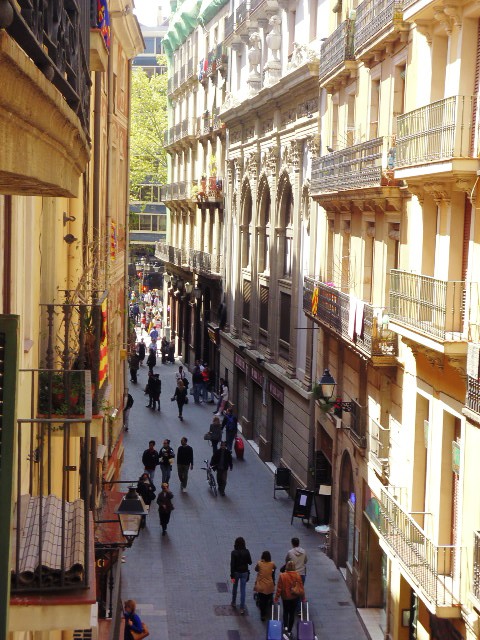 The general concensus is that we stay away from the Sagrada Famillia, La Pedera and Casa Batilico over the weekend due to the number of tourist visiting and as most of the Museums seem to be closed on Monday we will visit Parc Guell and the Beach on Monday.

So our plan is as follows:
Saturday: Go with the flow, and check out the Gothic Quarter
Sunday: Do the City Hop on Bus Tours, as see what takes our fancy
Monday: Visit Parc Guell in the morninig and the Beach in the afternoon
Tuesday: Visit Sagrada Famillia, La Pedara and Casa Bastillio
But of course before any of that can happen we need some substitence.
We wonder around the Gothic Quarter and find a cafe with the most appetizing pastries in the window, and get tempted in.
With coffee, pastries and the obligatory fruit salad ordered, there is not need to let our standards drop because we are on holiday, we settle in to enjoy our Barcelona break.
Firming up our plans, and getting our bearings.
There is a lot of commution behind Soz's chair, and it transpires that her bag which she had placed on the floor had been stolen!!!
What a fantastic start to our break!!! Soz isn't moving or doing anything, and seems to be unaware of what has happened, so with the help of some locals we find out that there is a recording CCTV system in the cafe, and make our way to the find the local police officers.
The great thing about Barcelona, is that you are never that far away from a police officer, especially around the tourist attractions, England could learn a few things from the Spanish on this front!
The other thing that I noticed about the police officers, is how professional they all looked, so much so, that if I was criminally minded, not that I am, I would have serious second thoughts about miss behaving, because those guys, don't look like they are messing about.
Anyway I digress, so off to the Placa Catalunya police station for us, where we spend the next 2 hours filling in a police report about the incident. I have to say I'm surprised the number of incidents being reported, in that short space of time, it was like a conveyor belt.
So there it is, within 18 hours of arriving in Barcelona, Soz has become a crime statistic!
Soz later tells me that she had a feeling about this, I just wished she had told me before asking me to pool our money into a kitty, because I would have said:
No, or
Yes, but I would look after the kitty!
Hey ho, hindsight is such a fabulous thing to have, but is always expensive, while good common sense is free.
So we are down 230 euros down, so much for our food fest, I'm so glad I believe in karma!
Well at least there was some awesome eye candy at the police station to take my mind off things, or was it the navy uniform and sun glasses???
Joolz xx
0 Comments
April 11, 2015
Copyright © 2020 Joolzery. All Rights Reserved.