Back To Business | Joolzery | Handmade Sterling Silver Gemstone Freshwater Pearl Jewellery
Back To Business
So after Soz getting her bag stolen, and spending a couple of hours, her filling in a police report, me checking out the local law enforcement, it's back to getting down to what we came to Barcelona for, having a fabulous time

One of the things I love about going away is photographing architecture and nature, and with a digital camera I can click away to my little hearts content, especially as my little baby has over 30,000 exposures on it!

So once we have got the necessaries of the bag stolen dealt with we head out in the sun to the Gothic Quarter to explore what this area has to offer us.

For me this trip is an opportunity to extend my jewellery designs, as currently I am in a bit of a design slump, so I'm looking for some inspiration, from natures' colours and shapes, architectural designs and building adornments, and what a city to do it in?

We are in the Gothic Quarter, which I didn't visit the last time I visited Barcelona, so it was a new exciting area to check out!

It's quite amazing how they marry old with new, and how they incorporate nature within the spaces, we found this beauty all over the place, I personally love the colour of this flower, and it's structure is reminiscent of my cluster earrings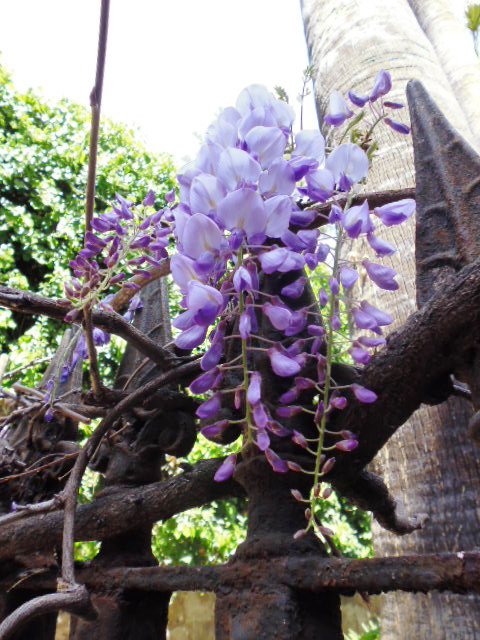 Talking about interesting building adornments, we came across this specimen: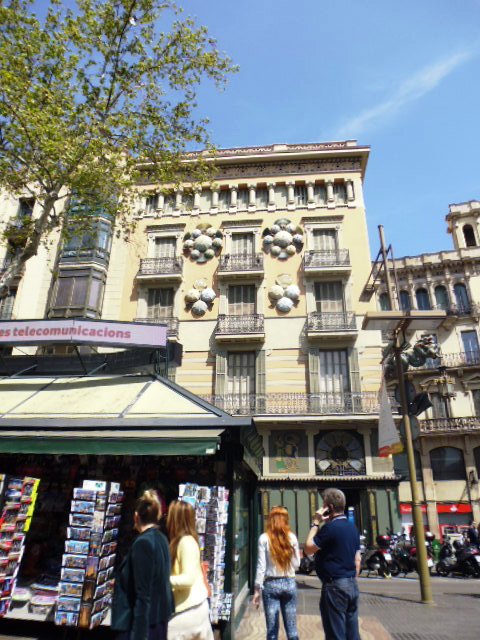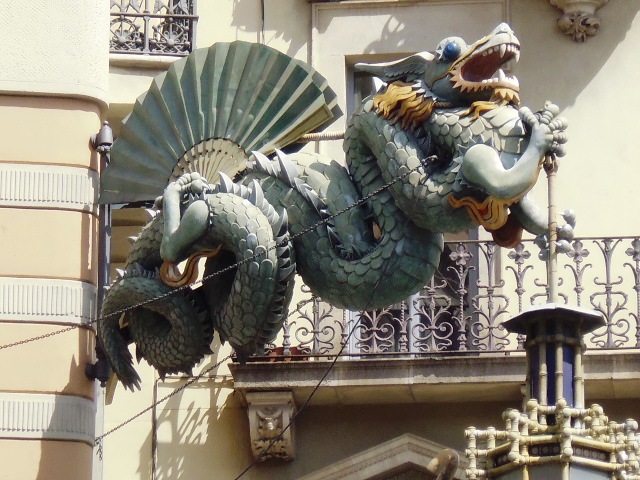 Sadly we did not venture inside to see what it was all about, on our way to the Gothic Quarter.

However we did come across this laughing Buddha, who must be the biggest Buddha I have ever seen!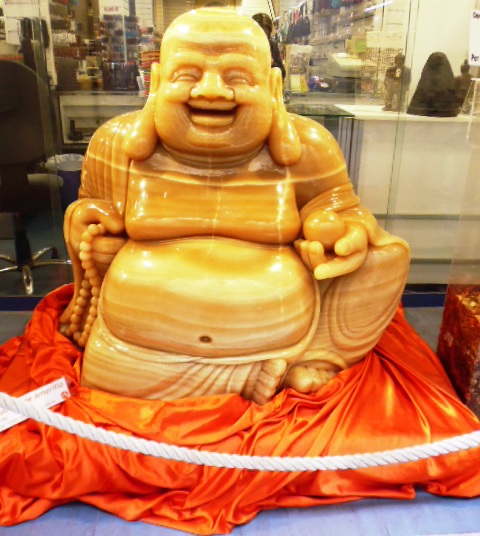 So we head to the Barcelona Cathedral as we have been told that we go to the roof to get some stunning views, as to get the best views of any city you really have to elevate yourself.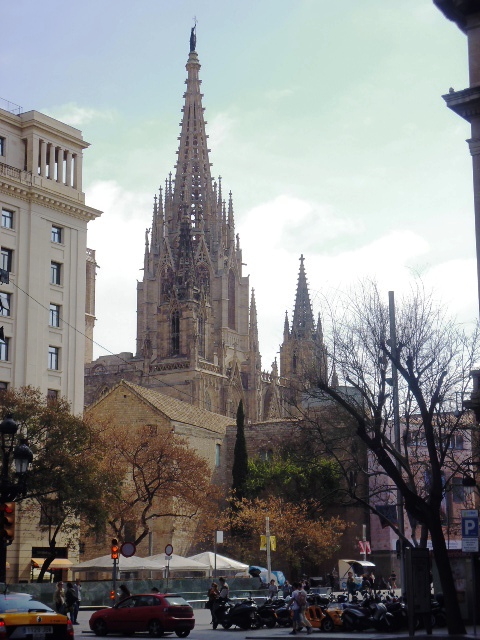 All religious buildings has a certain reverence, regardless of which domination or country it's in, however the constant squawk of geese, was at best a bit disconcerting, as this was the first time I have every entered a church/cathedral with livestock within the walls.

As a jeweller I was really impressed with the bling that they had on show there was an garnet in gold brooch that was the size of my palm, and the rings well what can I say, they could easily give Swarovski a run for their money, but I guess the green, blue, red and clear stones are real emeralds, sapphires, rubies and diamonds, rather than coloured lead crystal, but alas I was forbidden to photograph them.

But we had an interesting ethic debate about church riches and poverty, with a couple from London we kept on bumping into.

I just had to take a photo of this, as a lapsed Christian, I fondly remember attended churches growing and going through the ritual of lighting a candle for prayer and reflection, however how we didn't get kicked out the cathedral after the jokes about this I guess there must have been some divine intervention, to me this is just wrong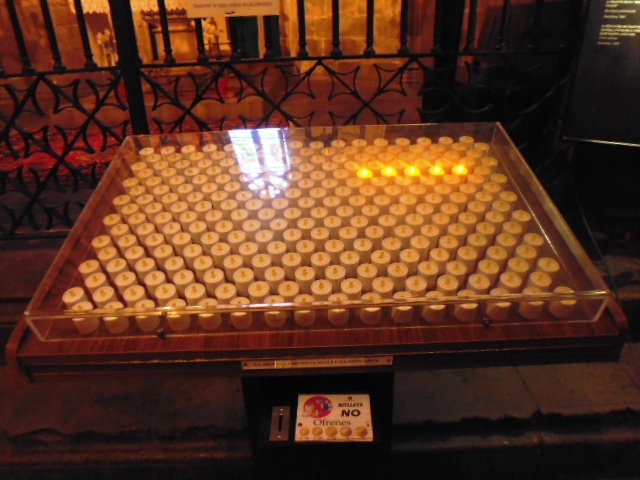 What do you think?

We was trying to work out:
How many candles light up per euro?
How long the candles stay light, and whether it depended upon the amount of Euros deposited?
Would the flickering spark an epileptic fit?
Whether we could adapt it by adding a cycle to light up the candles
Yes it was silly, but then is this really appropriate, or am I just old skool and old fashioned?
Anyway off to the roof, to check out the spectacular views of Barcelona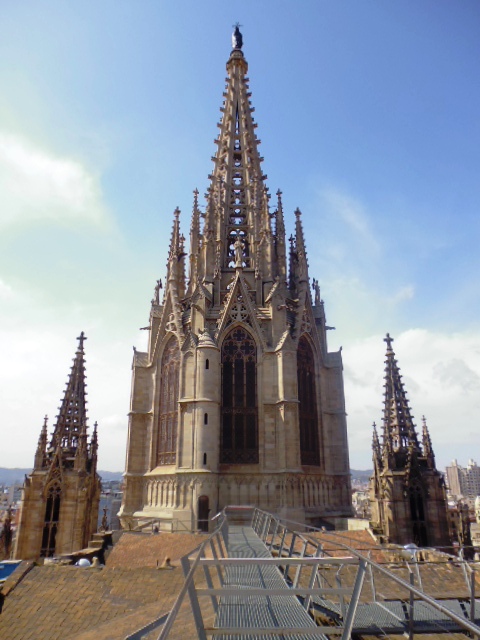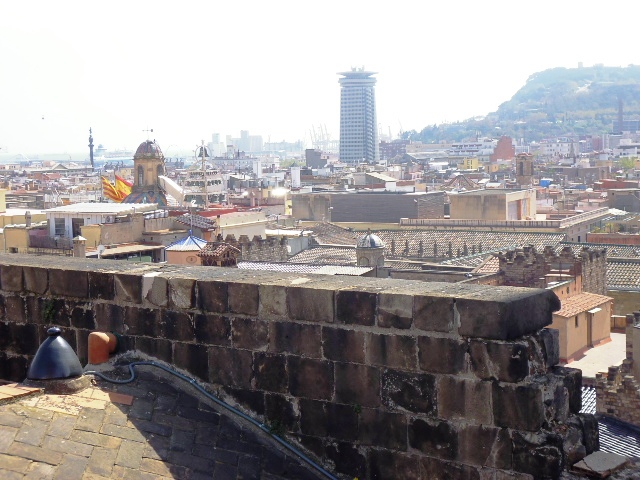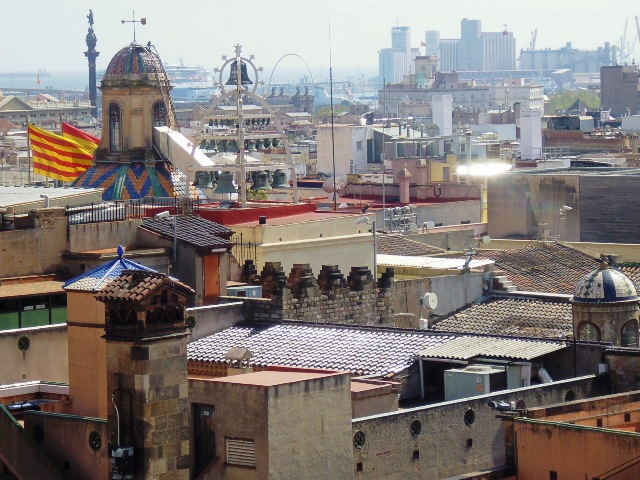 0 Comments
April 11, 2015
Copyright © 2020 Joolzery. All Rights Reserved.