My Weekend With the Faerys | Joolzery | Handmade Sterling Silver Gemstone Freshwater Pearl Jewellery
My Weekend With the Faerys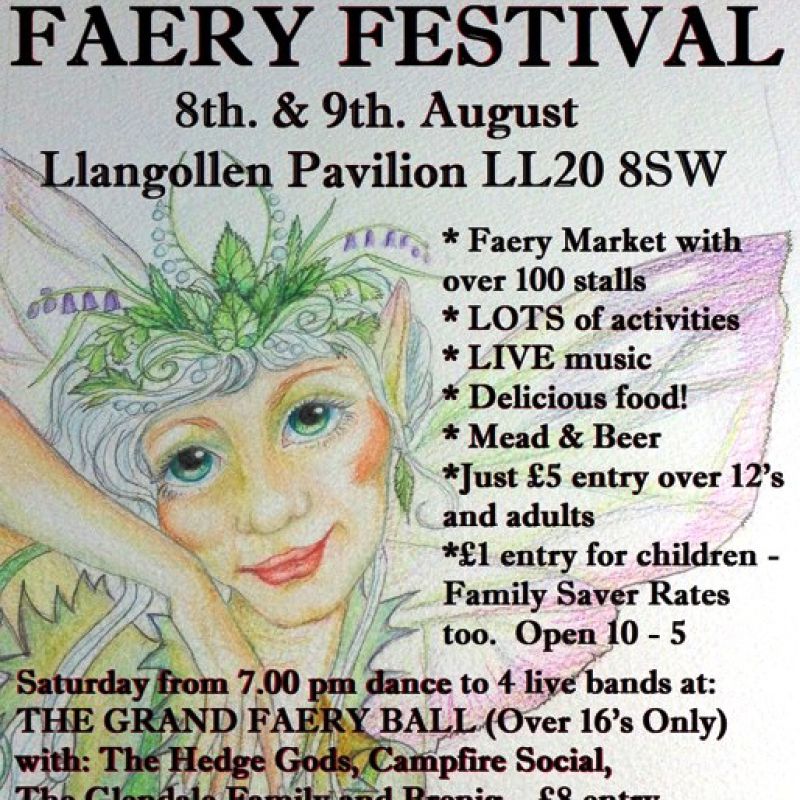 So I spent this weekend at the Llangollen Faery Festival, at the Llangollen Pavillion.

Up until 4 weeks ago I had never heard of the Llangollen Faery Festival, and so ultimately I was intrigued and when a space became available for me to take part I was really excited by the opportunities of taking part in such a wonderful event.

This was going to be a weekend of firsts for me, It was the first time I had:
Attended the Llangollen Faery Festival
Taken part in a festival/fair/market in Wales, and
To showcase my new wooden jewellery display
So you can imagine how happy I was waking up at 6am on Saturday, to pack the car and get ready for this little festival.
I have never been to Llangollen, so driving through the valleys of Wales heading to the venue gave me the chance to take in some seriously breath taking views.
And of course the one think the organiser warned me and told me not to do, is the one thing I did, but you will have to see me and ask what that was!
I eventually arrive an hour and a half later, and have to find my table by looking for my name post-it on the table, which by Murphys' Law is the furthest away from the entrance I use to enter the venue.
With the new wooden jewellery display I had my stall set up within 30 minutes, which is a record for me.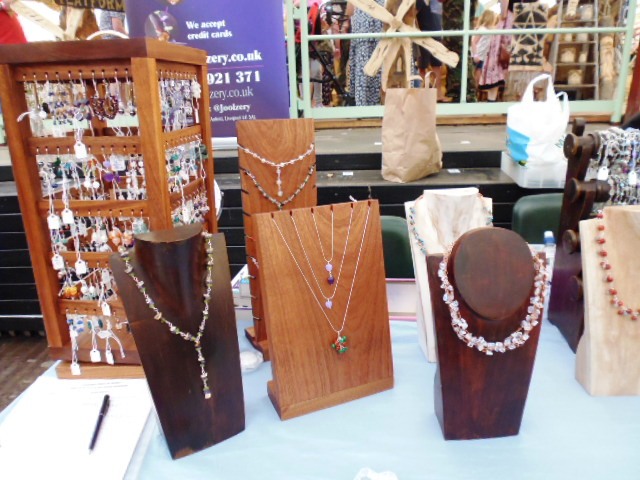 I really love my new earring stand, although it took 3 months to create, it's absolutely perfect for displaying my earrings: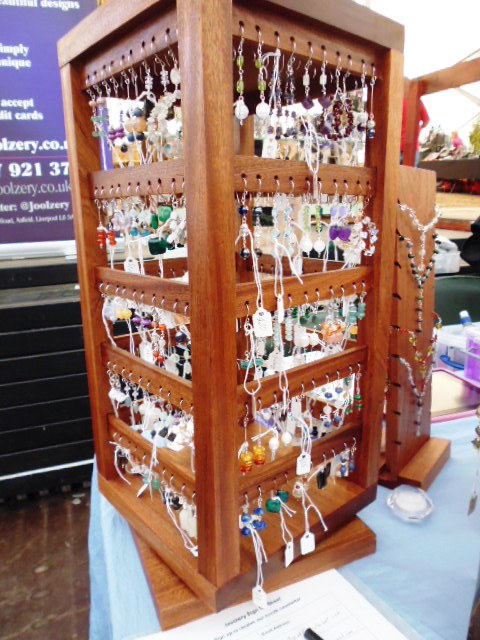 At 10am the doors open, and I'm all ready for a day of sales, however one thing I did not realise was that although there is WiFi, Llangollen is in a valley, and therefore is in a mobile/WiFi black hole!
Looking at my mobile phones displaying no bars on my signal and emergency calls only, things does not look good!
Not to worry my iPad is on BT WiFi, so I should be well sorted, right? Wrong!
The nearest WiFi hotspot according to the app is 5.8 miles away!!!!
Just goes to show that when technology takes on nature, Mother Nature always comes out on top!
For me this is an absolute disaster as I know that most of my customers will wish to pay by credit card, and I can't believe that a venue such as the Llangollen pavillion does not have the facility to allow traders to take card payments or at least get a decent signal!
The one sale that I did make was for my opalite cooper crochet necklace: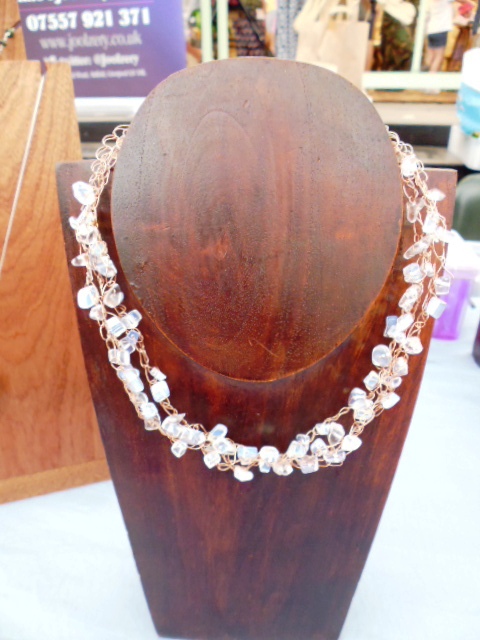 When she asked if I took card payments, my heart sank, I had to explain that under normal circumstances I do. but as I can't get a signal, I can't. I said I would take the necklace off the stall, and if she ordered it online I would send it to her on Monday.
Luckily she loved it so much that she managed to get a family whip round and returned with money, mainly in coins! but who cares it's money and a sale.
And before she left the pavillion, the necklace was unwrapped and adhnoring her neck, that felt so good, watching her excitement of putting it on.
Unfortunately for me that would be the only sale of the weekend. I guess the Faerys had left their magic faery dust at home, and wasn't around to help with the WIFI gremlins!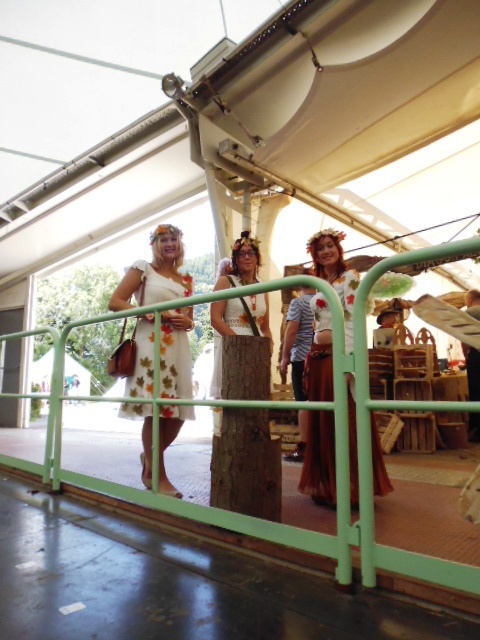 So what is a gal to do????
Well there's only one thing for it, and that's shop, especially when you have a penchant for gemstones, and there are more gemstone stalls, that you can wave a wand at!
I came across some usual and unusual gemstones, as well as raiding a pot luck bin, well a bowl of random gemstones, including these: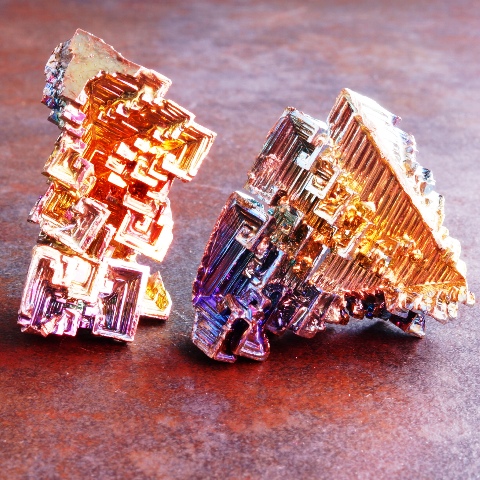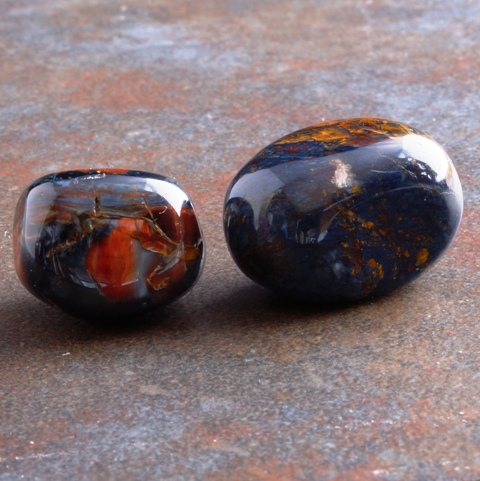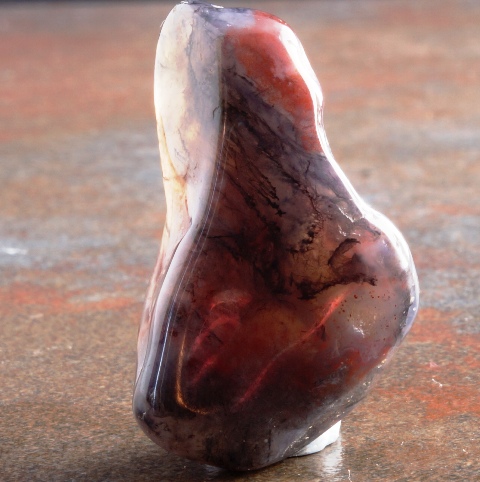 I have deliberately not named these gemstones, as I want to use the images to start a new series of blog posts, called name the gemstone, another idea I came up with over the weekend!
I also was able to make a start on my crochet chakra semi precious sterling silver necklace, which I have been meaning to do since Christmas, better late than never eh?
As per usual, I met some really interesting people, not including the faerys of course, and some other characters that I really can't describe and/or name: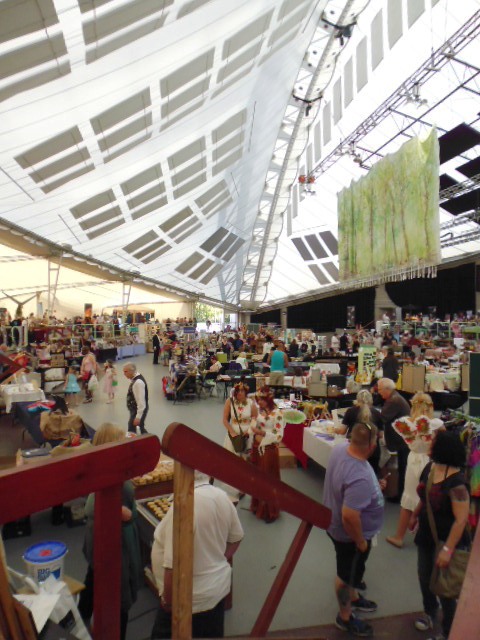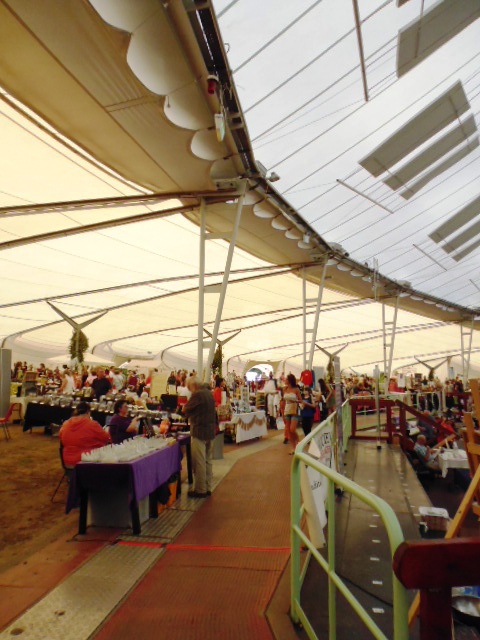 And there is the potential to get my stuff in a local gallery in time for the Christmas rush.
So all in all although it wasn't the weekend I had hoped for, it was still a weekend of opportunities!
Joolz xx
0 Comments
August 12, 2015
Copyright © 2020 Joolzery. All Rights Reserved.