CUPRITE METAPHYSICAL PROPERTIES, MEANINGS, HEALING ENERGIES, BENEFITS & USES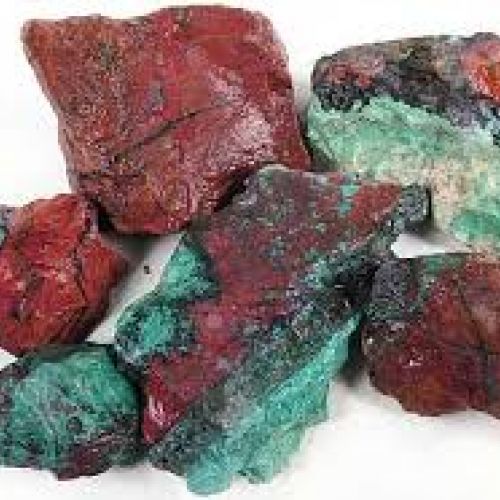 Cuprite
Cuprite derives its' name from the Latin Cuprum which translates to Copper.

Cuprite is a red healing crystal that is rich in copper, that naturally occurs with Chrysocolla.

It's most common colour is a shade red, but it can occur as a darker brown or reddish black, known as Silver Cuprite, healing crystal.

Cuprite is a fabulous spiritual grounding healing crystal that vibrates and works via the Base, Solar Plexus and Sacral chakras, especially useful for those who work with high vibrational crystals.

It is said that cuprite is a a good energy booster when one feels they are flagging, its' vibration replenishes energies and increases ones life force and vitality. It may help in assisting one with preventing and protection from discrimination within the work place.

Cuprite is fabulous manifestation crystal, by providing one with the knowledge and security that all ones physical needs will be delivered, by grounding one in the present moment, by encouraging one to move one from the past, and assisting in the releasing the need to control and worry about situations and life while events occur naturally to the benefit of all.

Cuprite assists in moving one towards future experiences and unlimited potential.

Cuprite is an alchemic crystal which connects the manifestation divine energies of the inner world of intention to the physical realm outer world!

Using this crystal one can give birth to ideas and creations manifesting intentions into the physical realm

As a healing crystal for feminine power and earth goddesses, Cuprite helps in the healing of the feminine, feminine relationships, which includes healing, supporting and nurturing, and may help in the identification and resolution of relationships between the female members of the family, female friendships and ones feminine self.

Cuprite is a wonderful healing crystal to meditate with if one wishes to awaken the kundalini energies.
Cuprite is a useful healing crystal for those who suffer from lung and breathing problems.

It is said that this healing crystal may assist in the treatment of bladder and kidney disorders, including water retention, prostate and elimination.

Cuprite works as a mild anti-inflammatory and may help in the treatment of arthritis, rheumatism, vertigo and altitude sickness.

For those who are looking to conceive, it is believed that Cuprite is a fertility crystal, assisting in the treatments involving the sexual organs, and in the case of females, this includes menstruation, menopause and hormonal balance


5 items found
5 Earrings found
Copyright © 2021 Joolzery. All Rights Reserved.